Baskets for bulk material
Wire Mesh baskets with various dimensions allow to clean and transport different parts in a single batch. The baskets can be loaded in to the respective washing box and securely locked with the appropriate clamping lid.
The robust stainless steel frame is lined with wire mesh and welded.
Easy adaptation to different logistics requirements
Wire mesh baskets have double frames at the top and bottom
Available in various shapes and sizes
Material made of stainless steel, electropolished
Good washing properties
Suitable for all basket sizes
Available from mesh size 1 mm to 5 mm
Wide range of options,
Wire Mesh baskets guarantee the highest possible quality when cleaning and degreasing small parts. The format of the basket is defined depending on the component geometry and part volume. According to the loading weight, the side walls and bottom frame are reinforced by additional wires.
The most popular model is the version Wire Mesh baskets with angular frame.

High quality
The upper angular frame gives the basket an elegant look. The electropolished surface underlines the high-quality workmanship and at the same time gives the wire basket a dirt-repellent effect.
Double frame
The Wire mesh baskets have a double frame at the top and bottom. They are 100% burr-free, i.e. there is no risk of injury from detached wire ends.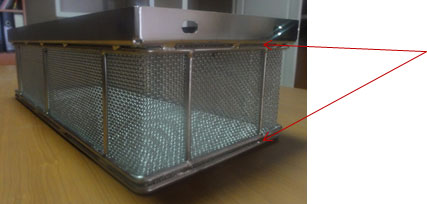 Double Frame
Robustness
Due to the two double frames, the basket is very robust and can take larger loads.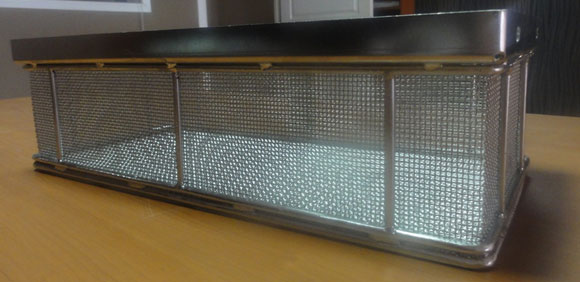 Coverlid
A spring-actuated cap closes the basket on the angled frame. Optimal sealing even for small parts
Height-adjustable sealing cover (option)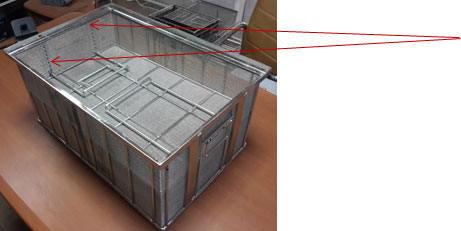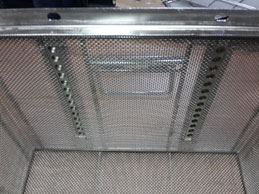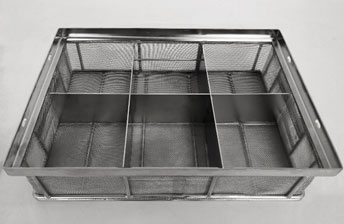 If necessary, the basket can be equipped with a compartment divider