Stainless Steel Workpiece Carrier, Stainless Steel Wire Baskets

Workpiece carriers guarantee safe workpiece handling - especially when it comes to reliably protecting sensitive workpieces from damage during transport and cleaning.
Stainless Steel Workpiece carriers, Workpiece-specific carriers, Customised cleaning baskets, Customised Wire baskets
Every workpiece has its very special geometry, its very specific Requirements for the protection of high-precision machined surfaces or has features with regard to weight, material and machining that must be taken into account when designing a workpiece carrier.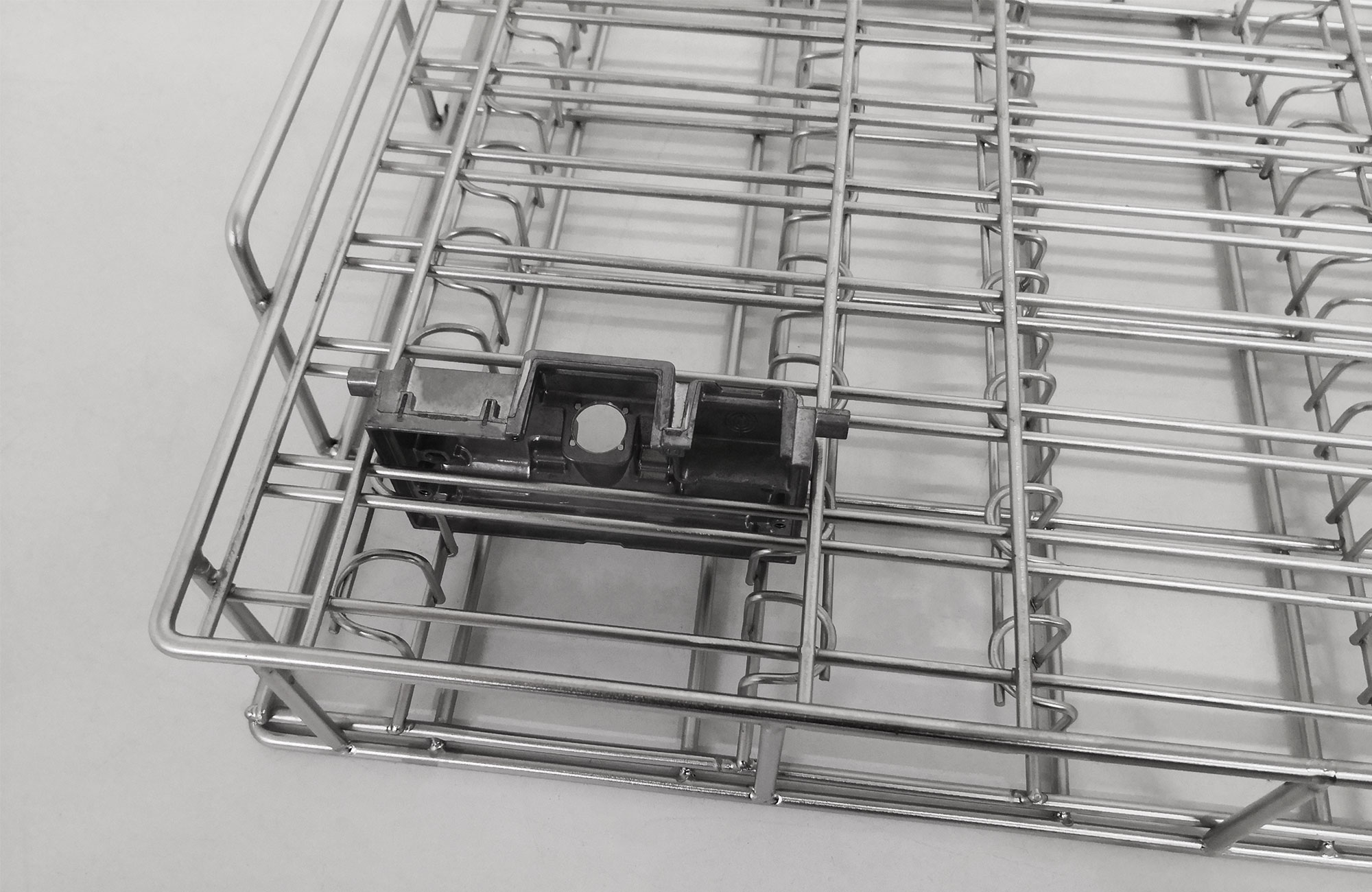 We develop and produce workpiece carriers for high-precision and sensitive components. This means that the components are carefully embedded and positioned in customer-specific automation magazines in such a way that they are easily accessible for a gripper.
In addition to being used with manual handling, the workpiece carriers are particularly suitable for customers with a high degree of automation.

The tailor-made solutions are mainly used in production with automatic parts removal and in the material flow of the automotive supplier industry.
Customised Workpiece Carriers
Workpiece-specific carriers ensure safe workpiece handling and protect them against damage during transport and cleaning.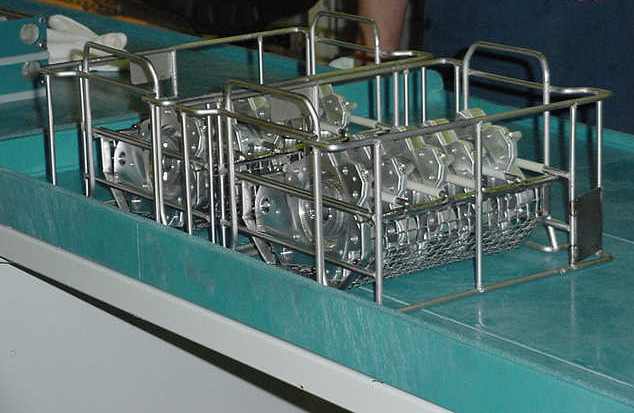 Our high quality workpiece carriers are individually manufactured with precision tools and ensure excellent positioning accuracy for automated production systems.
The robust wire construction is made of from electropolished stainless steel and can be also used in cleaning equipments. They guarantee the safe transport of your products within the value chain and ensure the smooth production flow.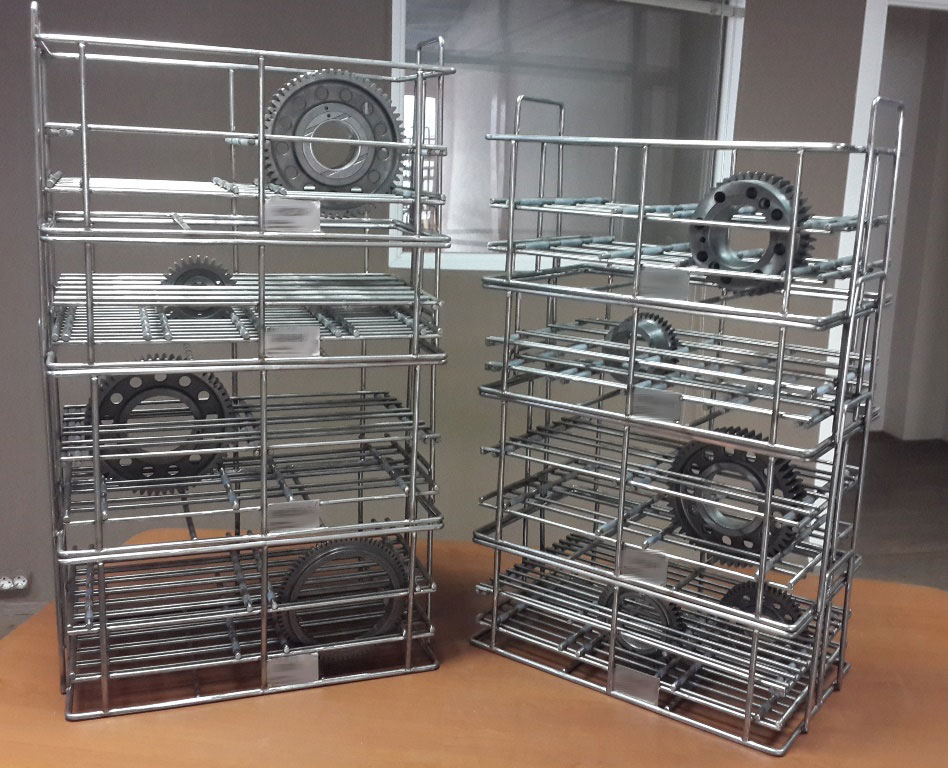 Magazines can be equipped with workpiece-specific inlays, different lids , handles, label plates, and offer an optimized material flow for the customer. Depending on the task, the inlays can be coated with plastic.
The baskets are highly corrosion resistant due to high quality stainless steels and electro polished surfaces.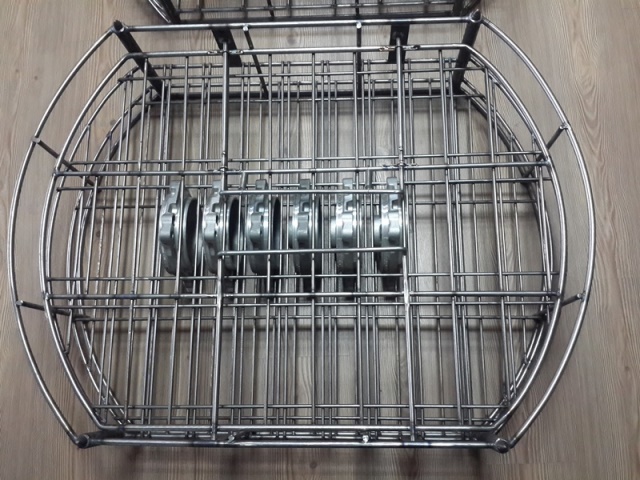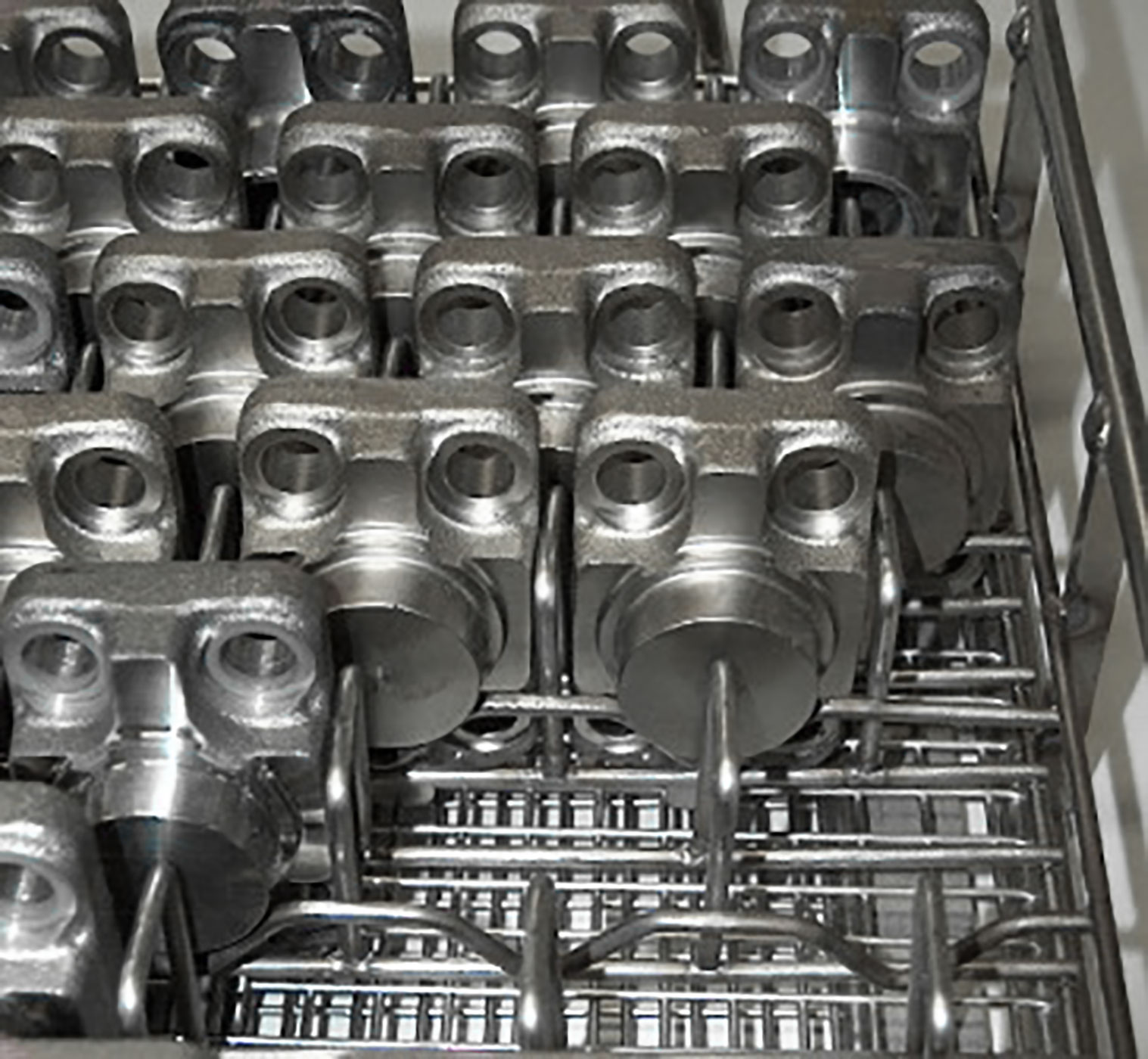 Significant features
The robust construction from stainless steel is electropolished to guarantee a permanent surface protection and underlines the impressive look and high quality manufacturing.
The Washing baskets are impact- and scratch-resistant.
Very high positioning accuracy.
Due to construction from steel wire low weight with maximum strength and stiffness.
Excellent washing qualities.
Wide range of options ensure easily adaptation to different logistics requirements.
Minimum space requirement.
Suitable for both aqueous and solvent cleaning.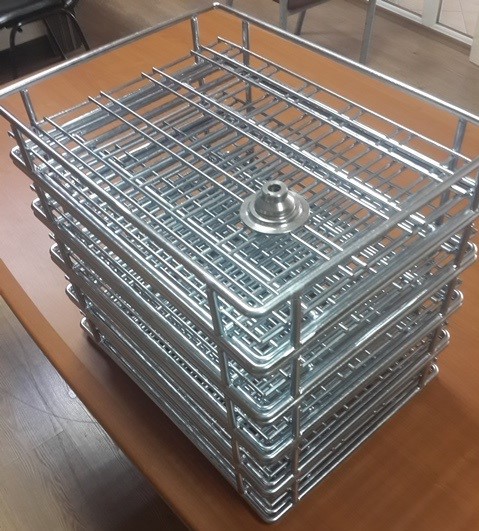 Wire material provides flexibility for size and complexity or when considering quite specific properties.
Washing baskets from wire ensure optimum workpiece cleaning unlike perforated washing frames. Wire design allow maximum flooding and spraying during washing process. This shortens the cycle time for cleaning and also speeds up the drying process and thus contributes increasing the washing capacity.
A further advantage of washing baskets made of wire is the excellent dripping charecteristic. carry over of washing media is avoided to a great extent which prolongs the bath life and increases the availability of the cleaning plant.
Design and implementation
Individual workpiece carrier systems precisely support the work processes from the production of the raw parts to final assembly.
With numerous project applications in the automotive, metal, defense, plastics, medical and food industries, and more than 20 years of international experience and a high level of quality understanding, the logistics problems of our customers are optimized.
Our high quality washing baskets are individually manufactured with precision tools and guarantee high positioning accuracy for automated production systems.
Why are Customised workpiece carriers needed?
The technical developments with regard to increasing automation and flexibility, as well as increasing demands on residual dirt specifications and the surface properties of workpieces have contributed to the fact that safe parts handling is becoming increasingly important.
In some special cases it is unavoidable to place the parts in a workpiece-specific carrier. Examples of this
Make the washing process efficient:
In order to guarantee sensitive cleanliness criteria in cleaning processes, it must be possible to target ultrasonic cavitation bubbles or water sprayed in the spray washing process directly onto the part. Since the parts in a stack would shade each other, they have to be lined up with certain distances. The quality and economy of component cleaning depend crucially on the Customised Wire baskets.

Component protection during the cleaning and drying process:
In most cleaning processes, the workpieces are subjected to a rotating movement in a bogie or working chamber in order to ensure sensitive cleanliness criteria. During the subsequent drying process, the parts are also rotated in order to achieve quick and effective drying and to avoid the formation of rust. Stainless Steel Customised Wire baskets, and Workpiece-specific carriers guarantee the safe cleaning and drying process.
Prevention of quirks and damage during transport:

Workpieces are a precious commodity. Not only are they made with great effort, they also have to be cleaned,stored and safely transported. So it pays to think about the right medium that will absorb, protect and secure a workpiece throughout its production.

Neri develops modular workpiece carrier systems that enable companies to adapt their production to the respective logistics task quickly and economically with minimal effort. For perfectly automated production processes with the use of robots with low costs at the same time
In today's automated production processes, it is no longer just the sheer robustness of such a logistics element that counts. What counts are the ability to automate the handling, the secondary properties when cleaning the workpiece and the reliable protection of the surfaces, the additional weight to be moved and, last but not least, the service life of such a system. In a word: an overall profitability with many facets.
Advantages and properties of the workpiece carriers
Designed individually for the respective logistics requirements.
Workpiece-specific holders precisely adapted to the product to be picked up
Depending on the handling technology, manual and / or automated loading of workpiece carriers is possible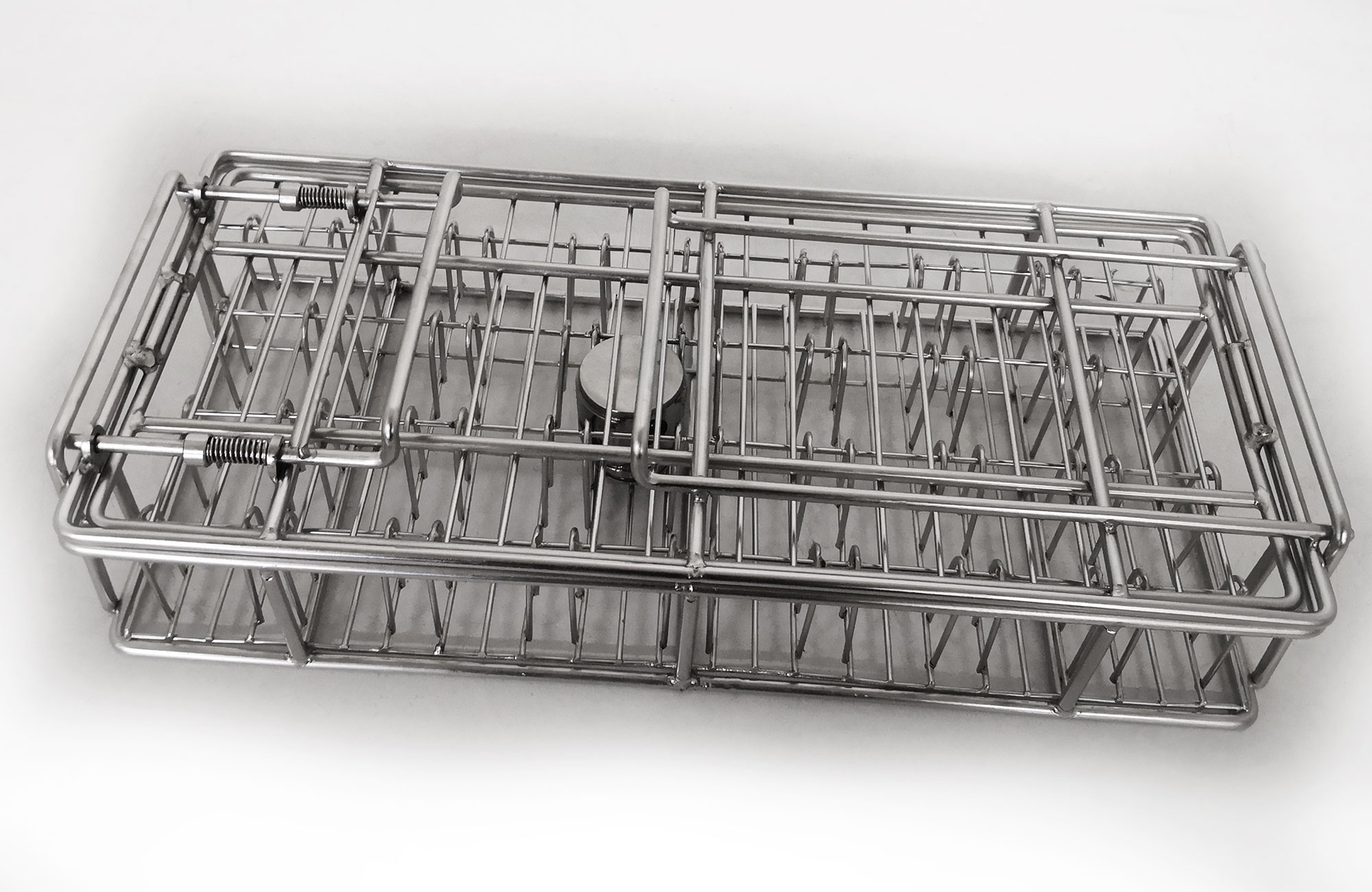 Very high positioning accuracy
Optimal workpiece cleaning thanks to the design
Material made of stainless steel, electropolished
low dead weight with maximum stability and rigidity.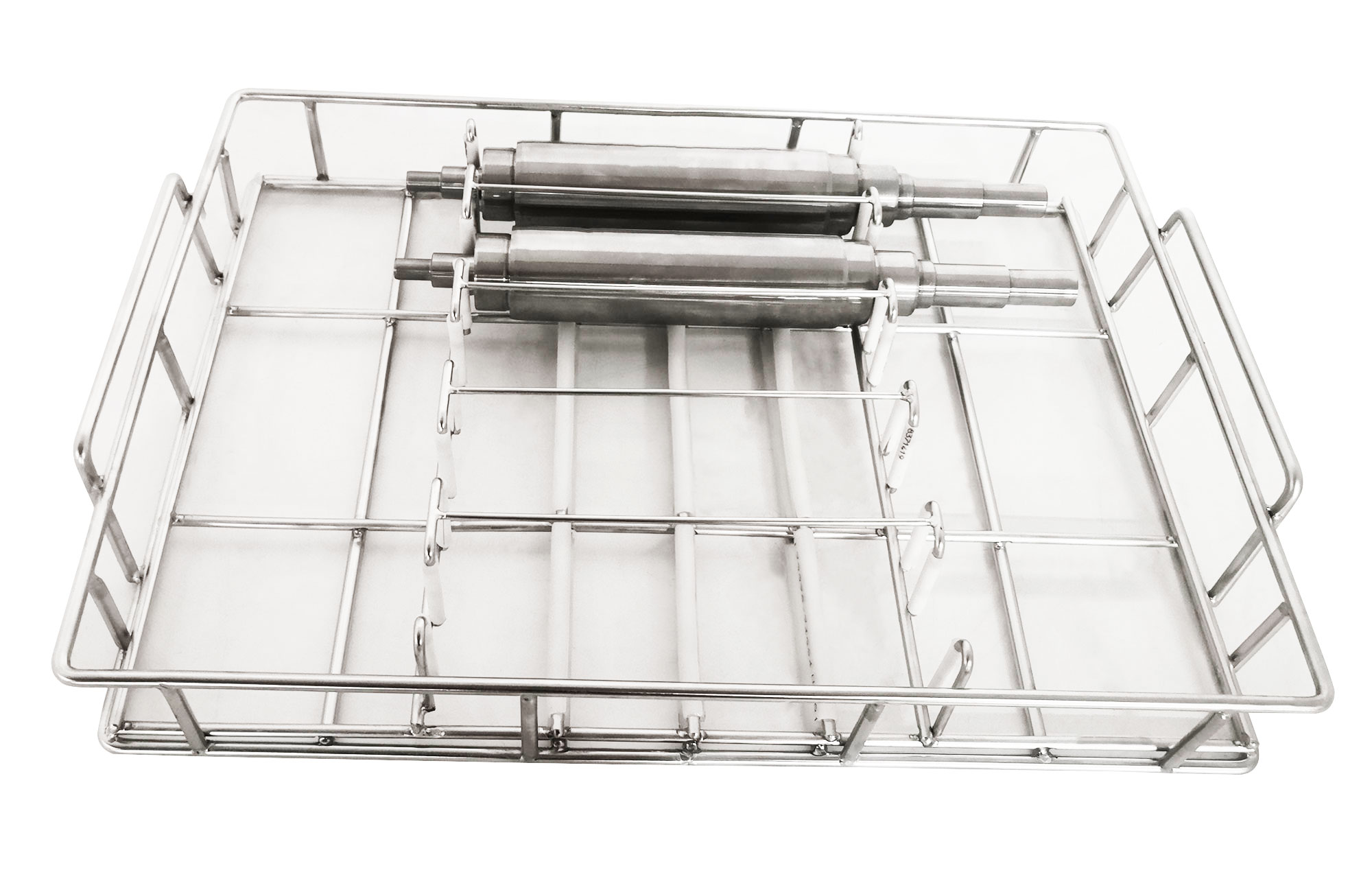 Good washing properties
Wide range of options,
Can be equipped with workpiece-specific inlays for surface-friendly handling
Minimum space requirement
Material selection from materials such as steel, stainless steel, aluminum or combinations
Suitable for taxiways
Stackable.
optimal workpiece handling
customer-specific workpiece holder
Protection against damage
Particular reliability in all process stages
Can be used for external transport
Neri washing baskets have been developed with great care and manufactured with high precision
Which materials and materials are used in the workpieces?
We deliver depending on the application, dimensional requirements and loads
Stainless steel wire
Stainless steel sheet
Stainless steel pipe
Aluminum
Or combinations of the above materials.
We use different types of plastic depending on the application. Our product range includes a large number of accessories for different practical solutions and uses. This means that the carrier magazines, wire baskets and workpiece carriers can be designed even more individually.

Accessories for workpiece carriers, wire baskets,
Our wide-ranging service portfolio of workpiece carriers made of high-quality material with a large variety of options, sensors and equipment for various purposes offers economical solutions for all automated production using conveyor systems, robot systems, and portal loading systems.
If necessary, workpiece contact points can be provided with plastic parts
Workpiece carriers can be equipped with different barcodes, RFID tags, RFID transponders or other optical identifications
The carriers can be designed more individually with metal labels and Kanban card holders
With the help of laser marking or laser inscription, permanently abrasion-resistant and precisely legible product markings are possible for the carriers
Consulting, application technology and project planning
We offer tailor-made workpiece carrier systems with which the workpieces can be washed, transported, stacked and stored.
Our application engineers focus on customer interests and ideas. in the calculation and design of products. We develop solutions that optimally reconcile the factors of safety, service life and price.

We need the following information for the design:
The dimensions of the working chamber and bogies of the standard cleaning systems used on the market are available from our company. For non-standard systems, we need the internal dimensions of the cleaning chamber or the drum
The drawing of the workpieces in step format.
Material and weight of the workpiece,
Cleanliness criteria
Choice for handling technology; Manual and / or automated assembly
Description of the automation technology (if an automatic conveyor is used, width and type of conveyor (rollers, chain, etc.) or if a robot is used, type of gripper, required spacing for the workpieces, etc. ...)
High quality
All corners and edges are rounded during production and processed without burrs. There is no risk of damage or injury during transport and material flow.
The workpiece carriers, wire baskets, are resistant to all cleaning media and prevent the parts from being contaminated by the carriers.
Due to the stainless steel used and its high level of corrosion resistance, there is no risk of the cleaning and processing baths being contaminated with rust and zinc particles from the carrier.
Difference between perforated sheet metal and wire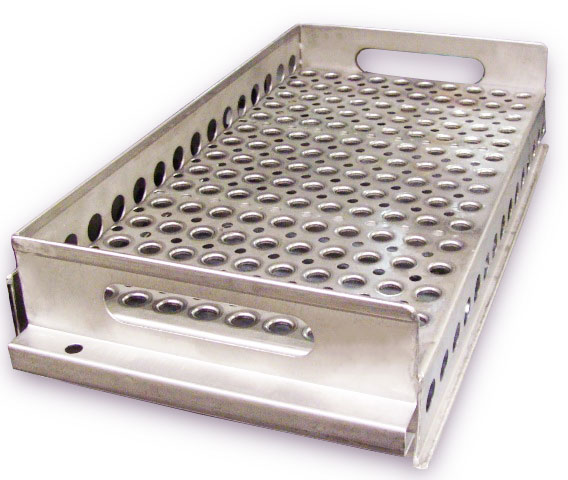 In contrast to perforated washing containers, containers made from round bars ensure optimum workpiece cleaning. Wire construction enables maximum flooding or injection of the goods. This not only shortens the cleaning cycle time but also accelerates the drying process and thus contributes to increasing the washing capacity.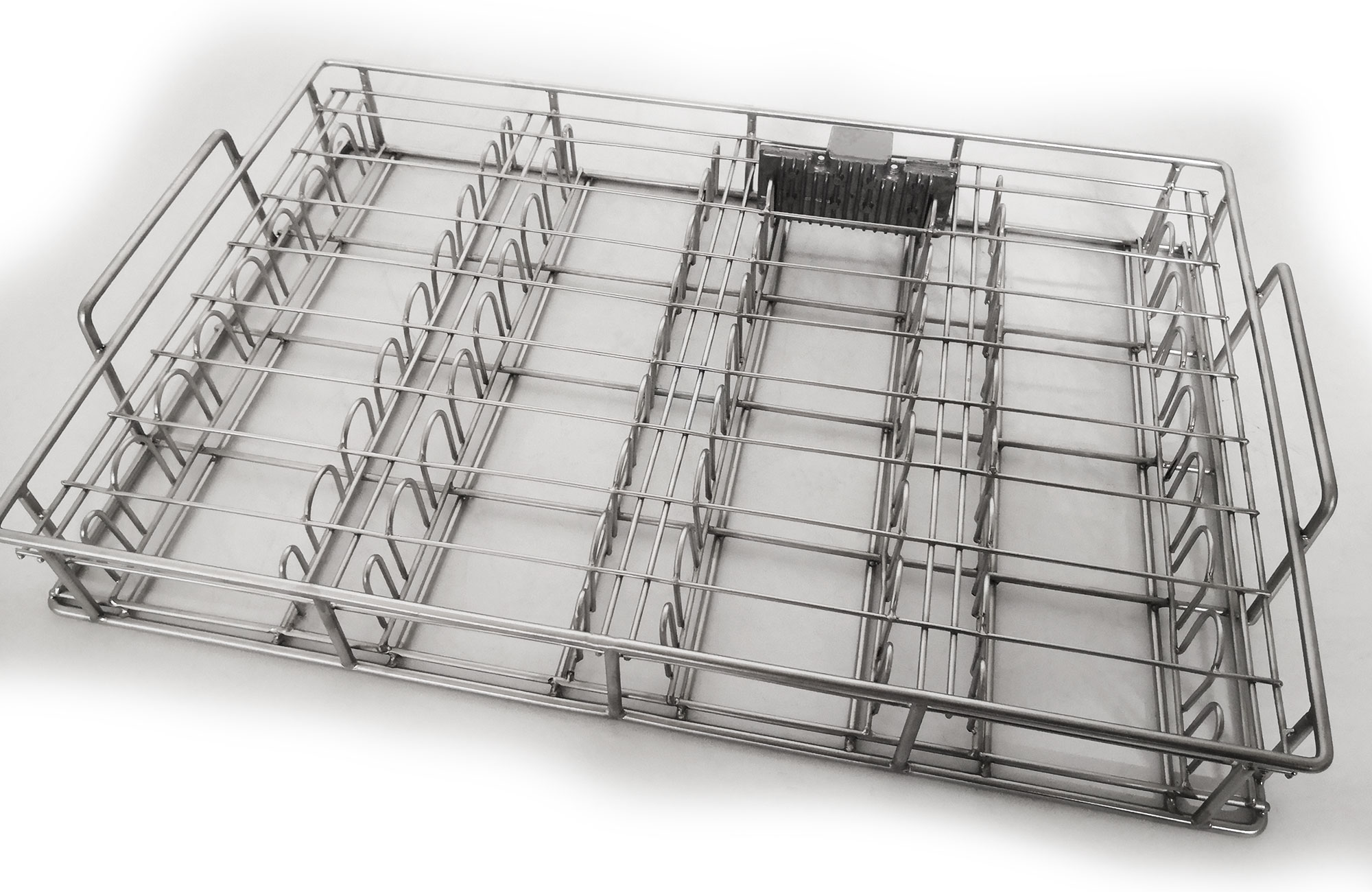 Another advantage of workpiece carriers made of wire is the excellent dripping behavior. This largely avoids the carry-over of washing media. This extends the service life of the bath and thus increases the availability of the cleaning system. The goods can be dried faster and with less energy.
The round rod minimizes the contact surfaces between the items to be cleaned and the wash basket. As a result, on the one hand, the dirt is rinsed off better and does not stick to the part and, on the other hand, the formation of stains at contact points is prevented.
Workpiece carrier, wire baskets, washing rack, Lean manufacturing, stainless steel wire baskets, stainless steel workpiece carrier,
customised Workpiece carrier, custom Workpiece carrier, custom wire baskets, customised washing rack, stainless steel wire basket,
stainless steel washing rack, stainless steel, stainless steel wire mesh baskets, bulk good baskets,
wire baskets with angular frame, washig baskets, washig baskets from stainless steel, wire mesh baskets,
Workpiece carriers for automation, Workpiece carriers for assembly, customised wire baskets, customised wire mesh baskets,
Perforated plate baskets for hardening industry