Design of tugger train systems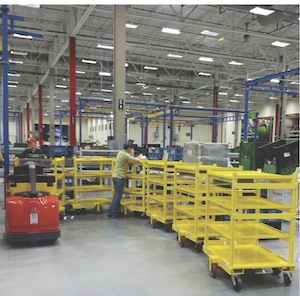 Particularly car manufacturers are increasingly using tugger trains to supply production areas.
This means manually operated industrial tugger train with several towable carts.
The driver prepares the material and collects empty load carriers at the same time.
QUICK LINKS
Design of tugger train systems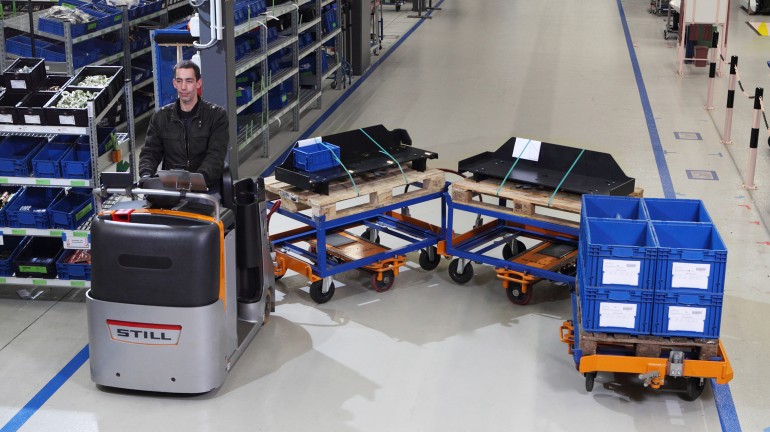 When designing the tractor train system, the planner is faced with the question of how the system should be designed for his specific application. Three aspects are discussed particularly intensively:
the standardization of processes and means of transport,
the optimization of the loading and unloading processes and
The flexibility of the system with regard to changed transport requirements and disruptions.
Depending on the planning phase (rough planning, detailed planning), the following target values are defined:
Demand for tractor trains
Number of tractors, number of trailers based on type
Employee
Precise statements about the required number of tractor drivers and logistics employees
Tours per day
Total distance
Layout-based evaluation of the individual routes
Processing times
Loading, driving and unloading in the Gantt table
Train length
The length of the tugger train that the tractor will pull depends on the factory premises, aisle widths, the tractor capacity, the manner (structure) of the transport trolleys and the safety regulations. Two to three trolleys are often required for deliveries to production lines.
Longer trains (about six to eight) are possible, as long as there is sufficient capacity in the tug , the track sequence of the transport wagons is adjusted accordingly and and there are large enough aisles to handle the train's turns.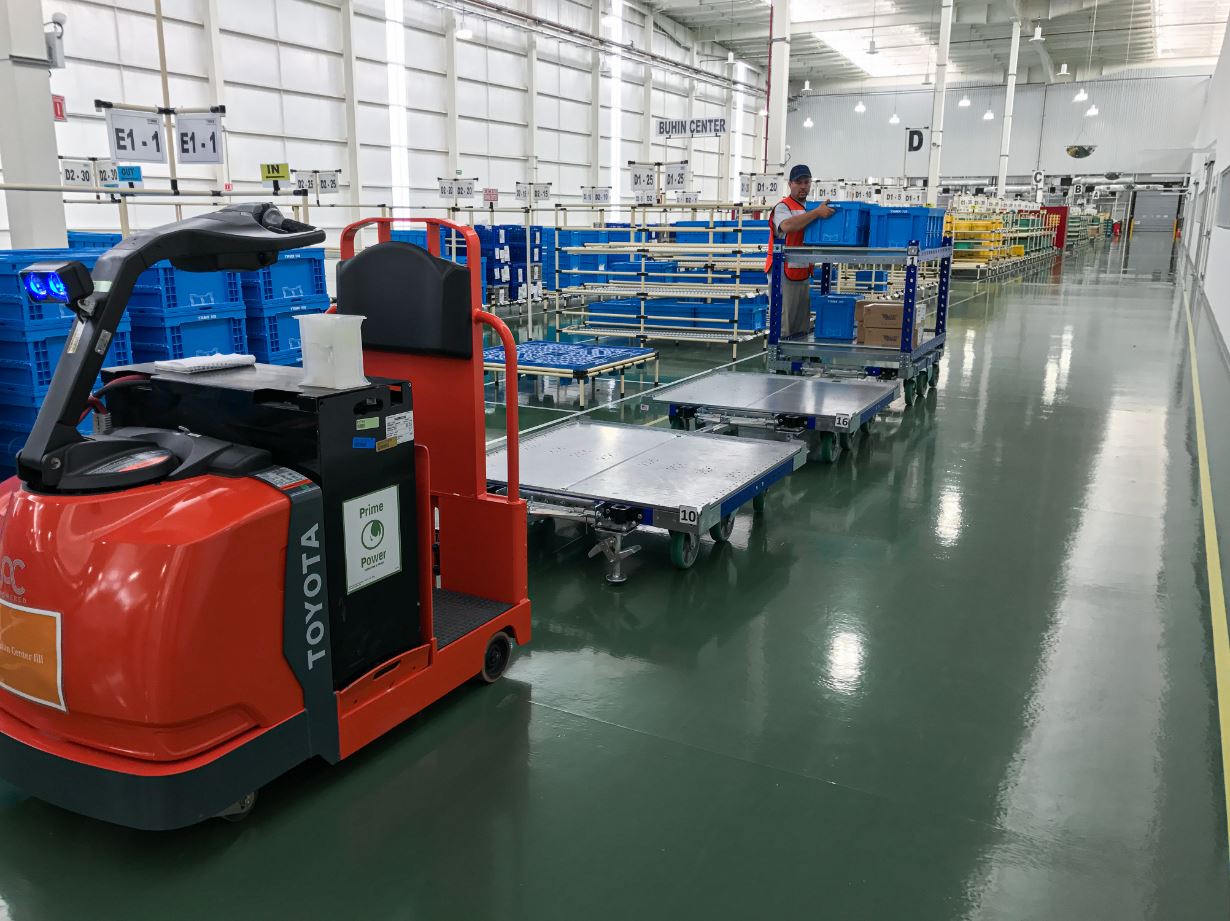 Usually in warehouses you can see trains with six to eight cars transporting material to the dock (loading dock area) and back. They are also often found in storage and sorting systems.
There are several types of trolleys and configurations that can be used depending on customer requirements. Choosing a suitable one depends on the size, weight and shape of your load and product, the factory layout and whether a sequencing system is in use.
Effects on Operation Areas
If you replace forklifts with tugger trains, you need to make modifications to operation areas in order to the new system. For this reason, it is highly recommended that you involve your factory employees in the planning, as they will be more familiar with the flow of materials and the problems that often arise during transportation.


Therefore, factory workers should be trained on the proper way to apply tugger trains and carts. More effective and correct handling increases the general level of productivity.
It is also worth noting that tugger trains require only one operator who drives the train. (if no automated solution is used). This ensures that other employees can be meaningfully deployed in other positions.
Plan ahead
Switching from forklifts to tugger train systems doesn't have to be painful if you plan accordingly. The benefits are more than worth the cost and time it takes to implement.
If you don't plan, you plan to fail. If you want to be successful with the changeover, early planning is essential.


You should list all your goals and analyze the current scenario. You may also use simulations to test your assumptions and confirm which approach to take. Identifying potential for improvement should also be part of the planning process.
If the transition project is huge and includes factors that may hinder production and output, plan the transition in steps. A change in processes means changes in work and habits for employees.
Doing the transition in one go may be met with resistance. Accomplish small milestones instead of making the transition more palatable. It is also recommended that you seek help from more experienced material handling professionals to ensure the entire plan fits your facility's environment.
Clean and environmentally friendly
With all the discussions about environmental changes, reducing emissions and energy-efficient operation, transitioning to the tugger train system is the right way to go. Tugs are mostly operated with rechargeable batteries. Tugs require less power to operate. That means less fuel and less emissions.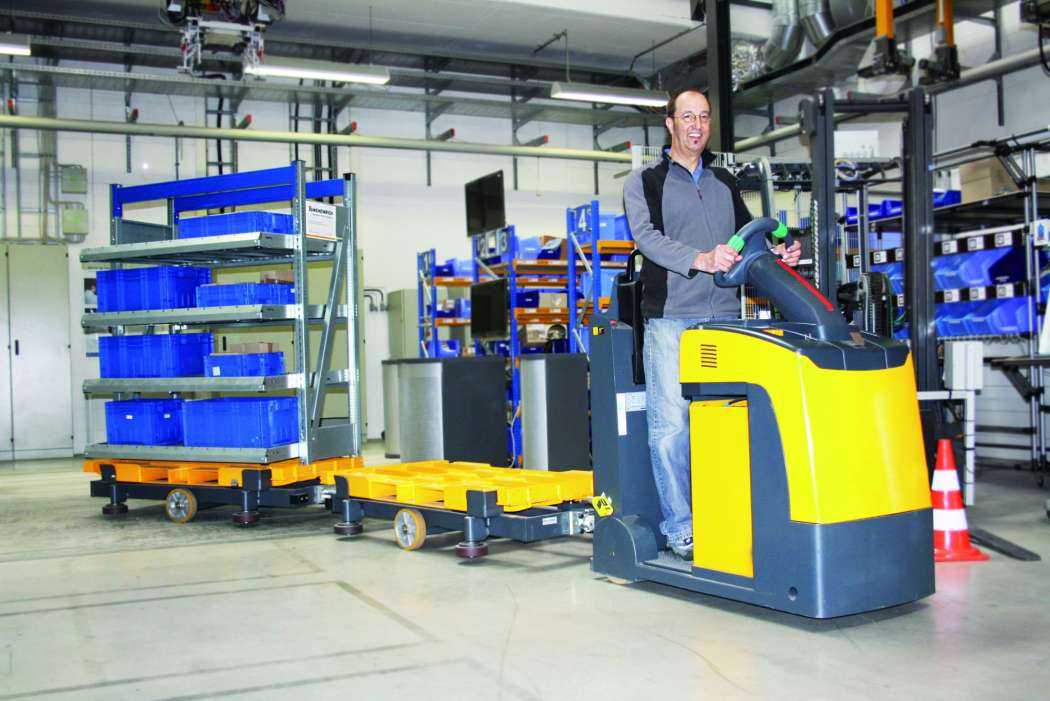 Forklifts cannot be completely abolished, as they are still required for loading and unloading trucks. These operate within the perimeter area of the warehouse for loading to and from trucks while tugs and carts are operated inside the plant. That is power complementing efficiency.
Industrie 4.0
If you plan to develop a smart factory, tugger trains can help. For example, they can be equipped with sensors such as weight or speed sensors to to track important parameters. The data from these sensors can be used to ensure delivery times are more efficient.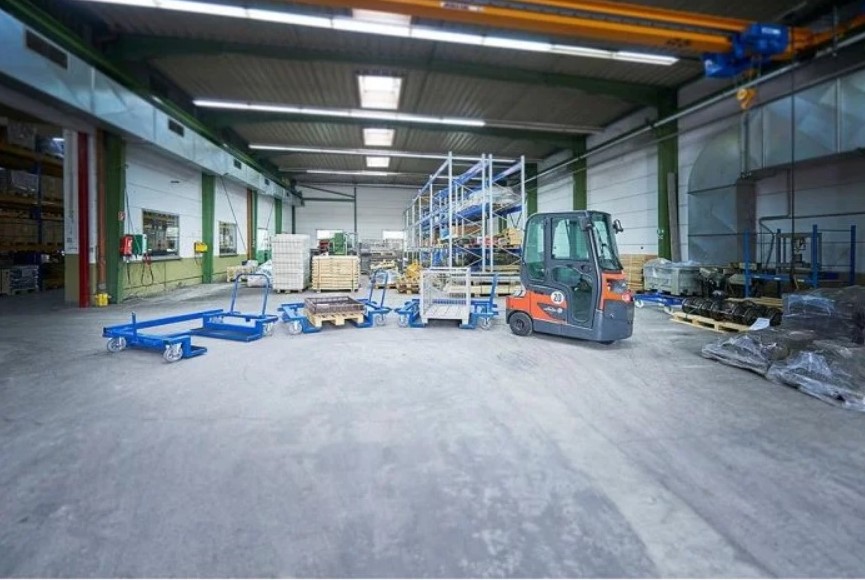 Data Collected from tugger trains can also be used for predictive maintenance. You can determine if the tugger vehicle is working below par and service it before a breakdown occurs. This reduces downtime and eliminates replacement costs.
Optimization of the parts supply with tugger trains
In times of lean production systems, forklifts are increasingly being pushed into the background as an internal means of transport in the production and assembly area. "The tugger train systems do better justice to this",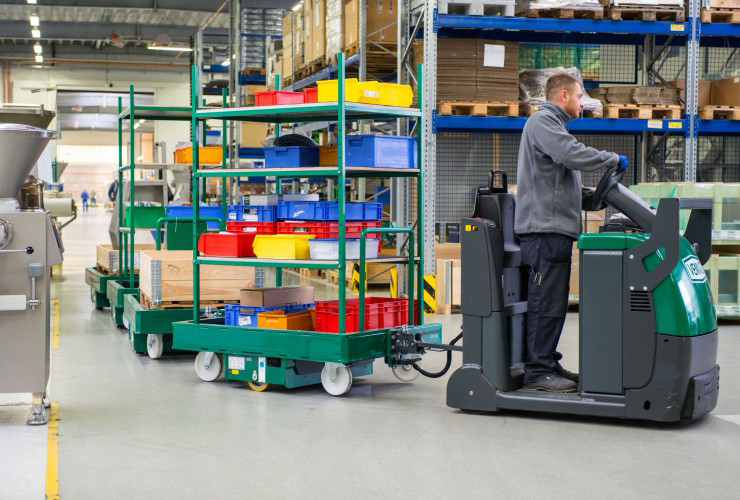 A tugger train usually travels on a fixed route. In some cases it runs according to a timetable or at a fixed frequency. For example, companies expect process standardization, fewer transports, reduced inventories and lower personnel costs. Some integrate the requirement for a forklift-free factory in their production systems in order to reduce the risk of accidents, among other things. They not only promise more security, but also transparent and efficient processes for supply and disposal.
Neri tugger train systems - the safest and most efficient solution for your internal material flow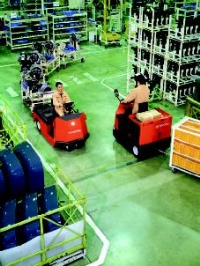 Whether inside or outside, whether small or large, whether heavy or light - with the tugger train systems from Neri you will find exactly the right tugger train solution for your requirements.
We offer you tailor-made tugger train solutions from simple applications with one-sided loading / unloading to complex applications with two-sided loading options in the outdoor area.